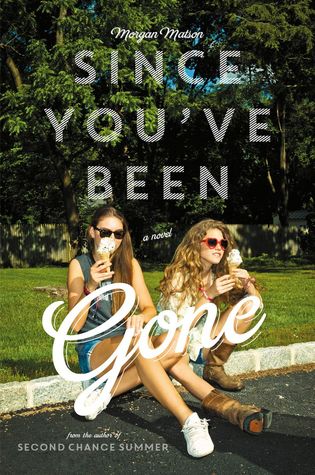 Published May 6, 2014 by Simon & Schuster
Hardcover, 449 pages
Bought
Emily and Sloane first met each other two years ago (or was it three?) and they've been inseparable ever since. But just as summer is about to start, Sloane disappears. Without leaving any hint as to what happened except for a list of things for Emily to complete. Though some things are out of Emily's comfort zone, she makes a vow to finish all the items on the list before summer ends in hopes that it might just lead her to where her best friend is.
Third Morgan Matson book? Um, yes please! Amy & Roger's Epic Detour and Second Chance Summer were enough to solidify Morgan as an auto-buy author and when I heard about Since You've Been Gone, it was immediately "I need that book in my life" for me. I don't know if any of you follow me on Twitter but did you see the madwoman I was in the days leading up to this book's release, trying to track it down?
Four more days until May 6 and Since You've Been Gone comes out!! Finally!!! *screams and cries*
— Annie (@anniemabel7) May 2, 2014
THREE MORE DAYS UNTIL I CAN RUN TO THE BOOKSTORE AND BUY MORGAN MATSON'S NEW BOOK, SINCE YOUVE BEEN GONE. SO CLOSE YET SO FAR AWAY.
— Annie (@anniemabel7) May 3, 2014
WOW WOW WOW WAY TO STOCK 26 COPIES OF THE BOOK I WANTED A DAY AFTER I WENT WHAT IS THIS BLASPHEMY
— Annie (@anniemabel7) May 6, 2014
I was planning on getting it tomorrow on my way to school but the bookstore doesn't open until 9. SHOULD I JUST SKIP FIRST PERIOD TO BUY IT
— Annie (@anniemabel7) May 6, 2014
Since You've Been Gone comes out today!!!! I kind of can't believe it. Going running while blasting the Beatles & T-Swift to celebrate! :)
— morgan matson (@morgan_m) May 6, 2014
I HAVE BEEN CHASING THIS BOOK DOWN LIKE A MADWOMAN AND NOW ITS FINALLY IN MY HANDS AND IM SO EXCITED TO READ IT!!!! pic.twitter.com/WmeYvdGboZ
— Annie (@anniemabel7) May 6, 2014
Yeah, this book kinda made me crazy. So what did I think of it when I finally read it? Scroll on and find out!
---
Lists are a big part of this book. Do you know how much I love lists??
Lists are possibly my favourite thing on the entire planet. I love making them, I love crossing off items on them and I love reading about them. So basically Morgan Matson just totally found the key to my heart by including a list in this book. Sloane, the missing friend, leaves Emily a list of things to do - think bucket list. What made it so fun though was that the list had a bunch of things that related to Emily's past and things that she was afraid to do (like kiss a stranger? Um). I'm still not sure if Sloane did it on purpose but the list seemed designed to test Emily's comfort zone and it was great to see her complete each task, sometimes in unexpected ways and see her open up a bit with each finished task. I kinda felt like I was with Emily on this crazy adventure and I was helping her cross off her list and guys, it was just SO much fun.
Friendship is a big part of this book too; let's talk about Sloane and Emily's.
There are so many different types of friendships in this book which is fabulous because y'all know how much I love to see friendships of ALL TYPES. Sloane and Emily's friendship is certainly an interesting one because I don't think it's something that I've seen in YA yet, or at least not in such detail. Sloane and Emily are best friends, they're inseparable. And while the relationship is NOT unbalanced, there definitely were two parts to it. Sloane is the more outgoing one and she's the one who pushes shy Emily out of her comfort zone so without Sloane, it's a bit uncomfortable for Emily to adjust because for the longest time, it's always been the two of them. In a lot of ways, their friendship has become what makes up Emily (as evident at the beginning when Emily confesses people know her as the friend of Sloane) so being without Sloane is something she's unprepared for. And I could definitely relate to this. I don't think I'm either a Sloane or an Emily, I'm more of a mix of the two. I'm usually the more outgoing person among my friends (re: crazy and loud) but I also totally get Emily and how she feels awkward without Sloane because I feel that too.
It was amazing to see Emily learn how to stand on her own without Sloane through the list and make new friends.
There were so many friendships in this book that I won't go into detail for each one but they all just made me so happy! I loved seeing Emily grow and find her balance on her own and make new great friends! The whole time, I was just like "you go, girl!" I felt so attached to Emily that it was just so fabulous to see her finally come out of her shell.
Frank, oh my god. I don't have any words to say about him.
What a lie. Of course I do! I have so many that I don't know where to start except that I LOVED HIM AND HIS FABULOUSNESS AND HE'S SO SWEET AND GINGER AND AHH. And he also makes music playlists, by the way, and they're amazing as well.
But even though this book had so many great things about it, it did feel like a letdown.
Maybe it was because I hyped it up too much for myself or maybe it was something else, I don't know. All I know is that while it was good - don't get me wrong, it was SO good - upon closing the book, I just felt a bit empty. I didn't get the emotional punches or as much squealies as I expected which is why this book isn't a five star but it was still good.
I was so excited for this book and while it didn't BLOW me away (I still think Amy & Roger was the best), it was still good and I'm happy I picked it up. Morgan Matson is a great author and she really wraps you in with great characters, solid plot and fantastic development. I loved the focus on the different types of friendship in this book because I'm always FOR friendship. I also really liked the romance - for those of you who don't like instalove, trust me there is NO instalove here. Overall a really good book and like all of Matson's novels, it's perfect for summer!
people who are looking for a cute summer read. This book is perfect! If you're a fan of Sarah Dessen, this is also a book you might like. And for anyone who's looking for a book with a strong focus on friendship, this one's for you as well!