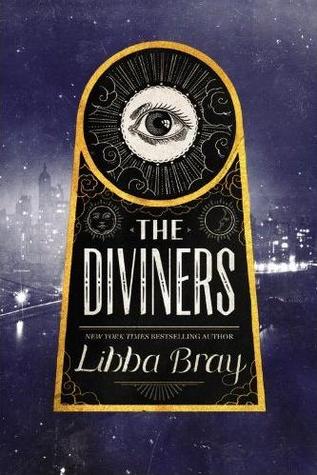 The Diviners #1
Published September 18, 2012 by Little, Brown Books for Young Readers
Hardcover, 578 pages
Borrowed from library
Evie O'Neill has a strange talent that allows her to look into someone's past by touching one of their possesions. And it's this talent that gets her sent from her home in Oklahoma (or Ohio?) to the fascinating city of New York City to live with her uncle when her parents have finally had enough of her antics. It's supposed to be a punishment but honestly, Evie could not be happier! As she arrives in New York though, something deeply sinister has started targeting seemingly random victims and murdering them in the most gruesome way. The police are on a desperate hunt to catch the killer and turn to Evie's uncle, Will to help them decipher the strange symbols branded on each victim's body. Evie can't help but get herself involved as she realizes that her talent could help catch the killer and in doing so, learns the true and terrifying identity of the killer and what it means for the world.
I am so happy I finally got to reading this book because I really enjoyed it! I had previously read A Great and Terrible Beauty by Libba Bray and really liked that too so I was happy to find that her other historical fiction/paranormal/mystery series was even better for me!
---
This book and I had a pretty anticlimactic relationship.
I just felt like I should get this straight out because it wouldn't be fair to ignore it. I had to take a break from reading this book while I was halfway because I had to send it back to the library. I'm sure you guys get the frustration I felt but it had to be done unless I wanted to add ten more dollars onto the current eight dollars I owe in fines to the library (yeah, I should get that sorted out soon). So there was just this long time when I didn't read this book at all. And when I finally picked it up again, the charm that I initially felt wasn't there any more. It's probably more the fact that I HADN'T read it for so long more so the fact that the book itself got worse but it sucked nonetheless because I had a few hundred pages to go and it was supposed to be climaxing for me, but just wasn't. (Only now did I realize how that sentence may send a different message. Let's just move on, please)
Libba Bray rocks at crafting really authentic historical settings as per A Great and Terrible Beauty, and the 1920's New York scene was wonderfully done in this book!
I've always been really interested in the Roaring Twenties for some reason. To me, it just exudes sophistication and luxury and I KNOW this was most definitely not entirely the case for many people in the 1920's, but it is NOT my fault The Great Gatsby makes it seem fabulous (and I mean the new Baz Luhrmann film because I know how the book is supposed to be a criticism of the changing of society but WHATEVER. LET'S NOT GET INTO THAT RIGHT NOW. I KNOW THIS MAKES NO SENSE SO LET'S JUST STOP.) Anyway, even though I do not live in the 1920's so cannot attest to the accuracy of portrayal in The Diviners, judging from how much attention Libba Bray pays to the little details like the slang they used and the larger, historical movements that were taking place then, it seemed like everything was done very well. At least, as a reader who doesn't know better, I could really imagine the scene very well.
Evie was fabulous!
Seriously, I loved this gal. She just seemed like a really fun person, and I have to say, her word choices started to make their way into my vocabulary while I was reading this book! And even though she is our heroine (with the help of her wonderful friends as well!), she wasn't all shades of perfect which made her so relatable and authentic. Evie makes rash decisions a lot of the time, she can't keep her nose in her own business and often gets waaay ahead of herself but in the end, you know that she's just a regular teenager trying to be the best she possibly can and help others. And the fact that even though Evie makes a lot of mistakes, underneath it's obvious that her intentions are pure is what made me love her so much.
The romance: it's not the main focus, nor is it the secondary focus.
I love a little romance in my novels and sometimes, I find myself missing it when there isn't much in a book but there was so much else to occupy me in The Diviners that I didn't mind at all. The romance in here is a bit confusing anyway. There seems to be two potential love interests for Evie but it's not a love triangle at all and one of them is being set up with Evie's best friend Mabel by Evie and... yeah, it's just really not the main focus of the novel at all. Which was so refreshing because there's so much happening in this book anyway that anything else would have been too much. I won't say who Evie ends up with (though seriously it won't make a difference if you know) but I will say that out of the two main male characters in this book, I was always partial to Sam, the mysterious thief who is just SO CHARMING. I was super suspicious of him at the beginning because reasons but I'm not so much any more. I feel like he has his own backstory of why he did what he did that's really intriguing so I'm interested in seeing more of him in Lair of Dreams!
Yes, this book is long but it flew by for me!
I was really so enraptured by the writing that the 578 pages did not seem at all like a daunting task. This book was just THAT good. I mean, besides the whole break I mentioned in the first paragraph.
The Diviners is such a layered novel with so many dimensions that I think anyone can find something they'll like in this.
Seriously. You get historical fiction, touches of mystery and paranormal situations. You have relatable teen problems and a wonderful cast of characters. It's heartbreaking and funny. It's intense and heartwarming and JUST SO GOOD. I recommend this for everyone.
The one thing I regret is that I didn't run to the bookstore to get this book the day after I had to return it. Because that break really killed the mood for me. I mean, I still really enjoyed this book but GOSH, if I didn't take that five-month long break from The Diviners, this book would have gotten a Badge of Honour hands down. I still really enjoyed it though. I thought everything was really well done and yeah, overall just a really fantastic book! Huge fan!
If you haven't read this yet, you really really should.
**********
Rachel @ Read. Write. Ramble
says: "The Diviners is a lot creepier than I expected. In a good way! The supernatural elements are so thorough and detailed and genius, and I couldn't see any of the plot twists coming. The murders scared the crap out of me."
Ana @ The Book Smugglers
gives it a 6/10: "The irritation comes from its excesses – and if there is ONE word I could use to describe The Diviners it would be just that: excessive. This is an incredibly bloated book."
Thea @ The Book Smugglers
gives it a 7/10: "Thankfully, The Diviners is saved by two things: the strength of Libba Bray's writing (which is, as always, engaging and effortless), and the appeal of the novel's main characters."