Published April 2, 2013 by First Second
Paperback, 192 pages
Borrowed from library
I wasn't initially going to write a review for Relish but after thinking about it for a while, I think it's important for me to get the word out about this book because I enjoyed it so much!
Relish by Lucy Knisley is a memoir in graphic novel form, but surrounding food. Which sounds confusing at first, I know but essentially what Knisley is doing here, is documenting her life through all these important milestones in her foodie life, starting from when she was a little kid and her mother and father cooked her amazing food to when she's much older and is starting to experiment a bit with cuisine herself.
I don't think this book will be interesting for everyone, namely if you're not a food person, you probably won't be as in love with this as I was. It's not your typical graphic novel but I really, really enjoyed it! The drawings were adorable and Knisley has a fun narration. Plus, between each chapter, she has real life recipes you can try out yourself! Relish was very food-oriented and I loved that! I seriously love food and have a passion for eating (and cooking it, but not so much). Literally, I watch Food Network like 24/7 so reading Relish was like extending my Food Network watching period in a different medium. Seriously so much fun and if you like food and are interested in it, I definitely suggest you pick this book up!
------------------------------------------------------------------------------------------------------------------------------------------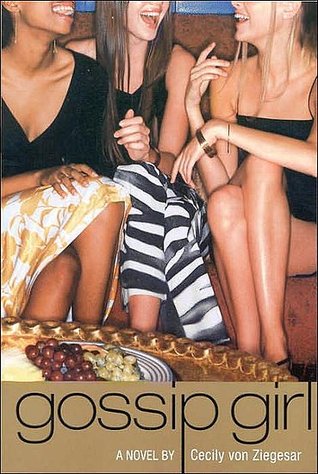 Gossip Girl by Cecily von Ziegesar
Gossip Girl #1
Published April 1, 2002 by Little, Brown and Company
Paperback, 224 pages
Lent by friend
So hey, I wasn't going to review this book initially either but since I was doing one for Relish, I thought I might as well write one for Gossip Girl as well. I didn't plan on reading this series at all (because watching the TV show is good enough for me) but my friend had it so I thought, "why not?" I'm really enjoying the television show so I thought it might be fun for me to revisit the beginning, but with the original source material.
If you don't know what Gossip Girl is about, it's focused on a group of really privileged teenagers living in New York City and all the drama that goes down. There really isn't a storyline in each book, it's more like the things that happen.
And I know it sounds really stupid and bad but I found myself really entertained by this book. It's not deep or insightful but it's not written for that purpose anyway, you know? It's supposed to be a fun and light read and that's exactly what I got! I think I liked it a lot more because I do like the television series which, by the way, only follows the books in season 1 before it branches out. Again, Gossip Girl is most likely not for everyone. I will be the first to admit that all the characters are really annoying in the way that they're always complaining when they are so well off. BUT. I still really enjoyed myself reading this book. I'm not sure if there's any point for me to continue the series when I kinda already know what happens, but we'll see. If I happen to stumble upon a copy, then I might.