I was looking at my book log the other day and noticed how I never ended up talking about the two books I ACTUALLY read for Epic Recs on my blog: If I Stay & Graffiti Moon. Instead of making two separate reviews for them, I decided I would just smoosh them together in one post since it's been a super long time since I finished them anyway and then ALSO include the two books I did not read for Epic Recs and ask you what you thought of them. Genius idea, right?
I guess I should maybe preface this with what Epic Recs is as some of you may not know. It's something
Amber
and
Judith
created that pairs up book bloggers with each other in a little fun recommendation game thing. So each month, you and your partner recommend each other books and then IDEALLY you're supposed to read them but since I am not the best with reading what I am told to read, it doesn't always work out that way.
If you're curious, here are the four rounds of Epic Recs I did.
(also note that Shelly was partner for Epic Recs #1 while Chloe was my partner for Epic Recs #2-4 in case there was any confusion)
the books i READ.
Chloe and I have similar taste in books so was I surprised that I ended up liking both of her recommendations to me? NOT AT ALL. Here are my thoughts on If I Stay & Graffiti Moon.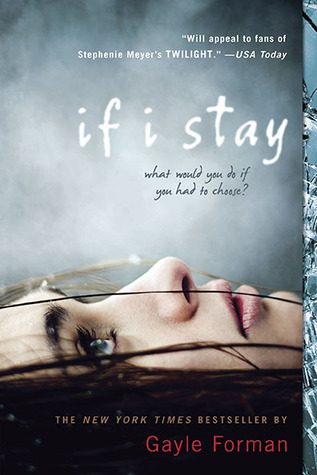 If I Stay by Gayle Forman
If I Stay #1
Published April 6, 2010 by Dutton Books for Young Readers
Paperback, 261 pages
Borrowed from library
If I Stay was a book I probably wouldn't have ever picked up had Chloe not recommended it to me and while I can't say I LOVED it as much as others did, it was a good read. Having read Just One Day before this, I knew that Gayle Forman was a good writer and it showed again in If I Stay. I was impressed by how much she managed to fit in a relatively short book but I was also left wanting more overall. There was just a disconnect between me and this book - a book that I had EXPECTED to bring the waterworks. But it never happened. I really didn't feel anything for this book besides maybe a glimmer of sorrow and sympathy for Mia. Maybe I'm heartless or maybe there was just something missing for me. There were a lot of things I liked like Mia's family and reading about her love for the cello. Those were all really interesting parts of the story for me but then there were other parts that I just wasn't super keen about. So I mean, it wasn't a bad book at all for me but it also wasn't super freaking amazing as I expected it'd be going in. I'm undecided at this point whether or not to continue on with Where She Went. I don't have any interest to do so but it's under consideration.
And just to throw this out there to be fair but I watched the movie a week or so ago and it really didn't do anything for my opinion of this book at all. I'm sorry if you liked the movie but oh my god, it was so awful I couldn't even sit through it. Maybe my favourite part was that Adam's band's name changed and the songs they played were good but apart from that, I CRINGED SO BAD. There was this scene when Adam and Mia are having lunch at her family's barbecue and a bee stings her... the acting was terrible.
Graffiti Moon by Cath Crowley
Published August 1, 2010 by Pan Macmillan Australia
Paperback, 264 pages
Borrowed from library
Graffiti Moon was another book on the shorter side that still managed to pack a lot in. I enjoyed this more than I enjoyed If I Stay but still, I felt like I was missing SOMETHING. In my Goodreads update, I mentioned that it was maybe a little too deep for me and I do feel that a lot of the time the underlying message / theme of the story escaped me. The beginning also had me a little confused but once the story got rolling, I was really invested in all the characters. The writing was amazing and I loved the unique topic of graffiti that Cath Crowley dealt with. It's definitely a very well written book that I recommend to anyone looking for a quick but powerful read. Another example of how a book doesn't have to be 1000 pages long in order to have well-developed characters and a story.
the books i DID NOT READ.
These were the books that for whatever reason I didn't get to. Now that I'm on summer vacation though, it's a great time for me to catch up on books. This is where you come in. Tell me which of these two books I should read next and why! What did you think of them? What were the best parts about the book? SELL IT TO ME.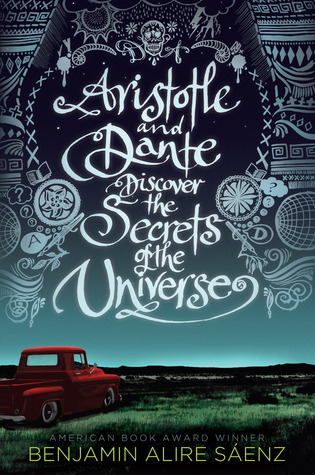 Published February 21, 2012 by Simon & Schuster Books for Young Readers
Hardcover, 368 pages
This was a book that Shelly recommended me and I KNOW, IT'S ONE I REALLY REALLY NEED TO READ. I just wasn't in the mood for a contemporary when she recommended it and then it just kinda fell to the side and I STILL HAVE YET TO PICK IT UP. I guess a lot of it is also because there has been so much praise surrounding this book and hype always scares me because I hate even taking the chance of being the odd one out. There is nothing worse than being disappointed with a book that everyone else loved and black sheeping hard.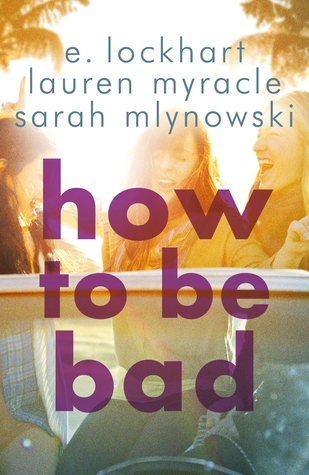 Published December 4, 2014 by Hot Key Books
Paperback, 352 pages
Chloe rec'd me this and I'm actually just sitting here in shock that I haven't read this yet. I love collab books and ROAD TRIP BOOKS and contemporaries in general. I'm not super familiar with E. Lockhart or Lauren Myracle but I do really love Sarah Mlynowski's work (Bras and Broomsticks anybody?) so I'm definitely willing to give this book a shot and maybe add two more contemporary authors to my favourites list! AND ALSO DID I MENTION HOW MUCH I LOVE FRIENDSHIP BOOKS SO YEAH THERE'S THAT TOO.
Have you read Graffiti Moon & If I Stay? Did you like them as well? What other books by Australian authors can you recommend because they're all amazing, I SWEAR THERE'S SOMETHING IN THE WATER. Was I too harsh on the If I Stay movie? Does it get better? And the important question: SHOULD I READ ARI & DANTE OR HOW TO BE BAD FIRST? And what were your thoughts on them? Also just for funsies, what's the BEST book you've ever read that someone else recommended to you (either through Epic Recs or something else entirely)?