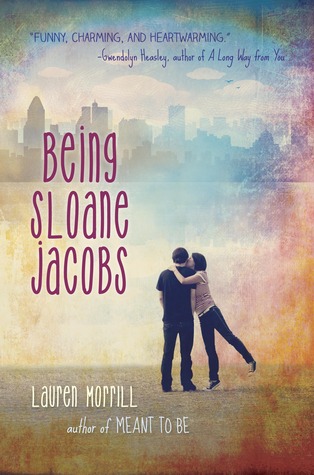 Published January 27 2014 by Delacorte
Hardcover, 352 pages
Borrowed from library
Being Sloane Jacobs is like The Parent Trap meets Go Figure. Two girls, both named Sloane Jacobs, from different backgrounds. One from Washington DC who is a figure skater and the other from Philadelphia who is a hockey skater. By some magical aligning of the stars, both Sloanes are in Montreal for skating camps and they meet. Each one of them has a part of their life they're itching to escape so when the idea is proposed that they switch lives for a second with one Sloane ditching her figure skating for hockey camp and the other ditching hockey camp for figure skating camp, they both jump at the chance to be someone else. Both girls find themselves slowly adapting to their new environment and making new friends. But what happens when someone threatens to expose their secret?
Lauren Morrill's debut
Meant to Be
was one of my favourite books last year so I knew I wanted to read Being Sloane Jacobs. And while I didn't love this one nearly as much as I did Meant to Be, it was still such a fun and enjoyable read that has me convinced that Lauren Morrill was a Disney Channel screenwriter in another life because HOW PERFECT WOULD HER BOOKS BE AS DISNEY MOVIES.
---
I loved the Montreal setting.
I never see Canada in books so it makes me happy when I do see it! And having been to Montreal, I can say that it is one of the most beautiful cities ever and I thought that Lauren Morrill did a really great job exploring it in her novel. It transported me back to Montreal, to the cobblestone streets of Old Montreal and the POUTINERIES (one scene where Sloane Devon, the hockey player, is trying poutine for the first time made me laugh because poutine definitely isn't very aesthetically pleasing but it's the best thing ever, trust me). Honestly I think reading about Montreal was one of my favourite things about this book. I can't even tell you how happy it made me and it was so fitting too! Like Montreal's such a big city for hockey and figure skating - those are two things they love very very much - so it was so perfect. I enjoyed being able to recognize all the places & streets the Sloanes visited and understand the French phrases being used in the book.
I also LOVED the hockey & figure skating aspect.
Both sports I really enjoy watching although figure skating is more something my mother was really interested in that I kinda adopted. My heart was doing leaps and spins while I was reading this book because I just SO enjoyed seeing these two sports on the page. I loved reading about Sloane Devon learning and struggling how to do jumps and spins and wearing fun leotards and skating to Hedwig's Theme. I loved reading about Sloane Emily's transition to a hockey player and using her figure skating skills to help her play hockey. But having said that, the fact that they both became so proficient at the sport so quickly was a little unrealistic. Like I don't have much practice in either sport (I barely even know how to skate) but from what I've heard, like it should not be that easy to land a double lutz! Because isn't there something about figure skating making your hockey better but hockey making your figure skating worse? Like they're two different types of skating, how do you just magically become so good in a month? But even though it was unrealistic, this book is just so fun that it was easy to ignore it and just go with the flow. And I loved the little hockey references. So I was actually reading this book during last night's conference final between the Ducks and the Blackhawks (on a side note, go Chicago, yesssssss. Literally everyone on that time is ace.) and the sound of ice scraping and sticks clattering was great ambiance for the book and watching Sloane Emily kill it at hockey. There was one sentence that I laughed so hard at which was when Sloane Devon told Andy, her figure skating friend, about everything that happened and she was like 'and after I told him that, it felt like Zdeno Chara, the biggest, baddest Boston Bruin, had lifted off my shoulders' or something like that and I was like oh my god because Zdeno Chara is huge and he'd scare me to death like really. So yes I really enjoyed that aspect and you can tell that Lauren Morrill did quite a bit of research.
The subplots were not as fleshed out as I'd have liked.
There's this whole thing in Being Sloane Jacobs about each of the Sloanes having their own familial issues that they'd like to escape from and I just felt like that part wasn't as in-depth as I would have liked it to be. Like it was such a big motivation for them to swap lives but it wasn't really touched upon which I guess is okay since everything more or less tied together in a neat little bow by the end but still. And also I was not fully convinced with either of the romances but it's okay because basically while this book may not have been the most technically great novel, IT WAS A LOT OF FUN AND I REALLY ENJOYED THAT.
I really enjoyed this book so much. It was the perfect distraction from all my finals. It may not have been the best book technically as there could have been more character and plot development but it was so much fun. It brought me the same type of satisfaction that Disney Channel movies bring me which, speaking of, this book would be great as a Disney Channel movie. Like petition to get this optioned by Disney please. It's like the best combination of The Parent Trap and Go Figure, that Disney movie where the figure skater has to go to hockey boot camp. LIKE YES. And plus I feel like if it were a movie, everything would play out so much better like the romances that kinda felt a little instant with no actual background and the familial issues each one of the girls had. But yes overall, I really liked this book a lot. I loved reading about Montreal and hockey and figure skating - all things I don't see often in books but I want to see more of!
people looking for a light contemporary that will definitely satisfy your cuteness quota. If you like Disney Channel movies (specifically Go Figure - man what a great movie), CHECK THIS ONE OUT. And if you like hockey and figure skating, this is a good one too.
**********
Stormy @ Book. Blog. Bake.
gives it 4 stars: "One of the things I really liked about Being Sloane Jacobs was that the two Sloanes didn't really like each other at first, but through their trade came to have a mutual understanding and friendship." (by the way, I totally agree with this!)
Emily @ Books & Cleverness
gives it 4 stars: "The characters were funny and smart, there's some family drama, and a touch of giggle-worthy romance. But below the surface it's also a book about following your heart and finding yourself along the way."
Magan @ Rather Be Reading
says it's worth it: "There's tons of self-discovery, a sweet love story (or could there be two?), depth, and a generous dose of laughter."