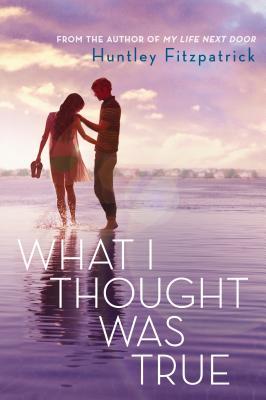 Published April 15, 2014 by Dial Books for Young Readers
Hardcover, 422 pages
Borrowed from library
It's summer again which means it's back to busing tables at her family's local diner on Seashell Island, a paradise to escape to on weekends for the rich mainlanders of Stony Bay, for Gwen Castle. But this summer, Gwen finally gets a chance to get away from busing tables with a special job of looking after the elderly Ms. Ellington which gives her more freedom to hang out with friends because she's not working random hours. Oh, but then Gwen's previous fling, Cassidy Somers who USUALLY resides in the rich kid side of Stony Bay gets a job as the local yard boy for Seashell Island meaning that Gwen cannot avoid him under any circumstances. Is there tension? You bet, as conflicts rise over the present and the past.
Although it hasn't been very cold or snowy this winter (despite what the weather specialists said back in November), I still feel obliged to indulge in my typical winter tradition of reading a nice, hot (in the weather sense), summer contemporary. We haven't had it bad at all this winter with temperatures flitting around the -10 degrees mark (that is, in Celsius) and above (lately it's been more like zero degrees to five degrees) which is basically SWEATER WEATHER for me but usually by this time, it's well below -10 and freezing and there's so much SNOW and sometimes, to get me through our long winters I just need a good dose of SUMMER to pretend that I live in the southern hemisphere. OKAY ANYWAY, long spiel over, I just had to pick up a cute book set in the summer and had my sights set on What I Thought Was True for a while after having read My Life Next Door and hearing tons of praise for this book. AND GUESS WHAT? It was cute. And very summery.
---
I liked this a lot more than My Life Next Door.
Ok, let me just get the comparisons out of the way. I enjoyed this more than My Life Next Door! I know lots of others who thought otherwise but honestly, My Life Next Door didn't make a huge impression on me. I enjoyed it but then the last quarter of it made me roll my eyes big time and that kinda suckered the overall experience for me. And while What I Thought Was True wasn't perfect and it wasn't OH MY GOD TEN TIMES BETTER, I did think the story here was constructed much better and was just stronger overall. I didn't feel like there was too much going on at a time and I didn't feel like the last quarter was so jam-packed although I still have problems with the pacing so...
The ending was rushed for me. Too much in the span of too little time.
Like My Life Next Door and that giant bombshell dropped on us within 100 pages of the ending, the last few pages for this book was a giant bombing party too. So much new information. So many changes. So much drama. Too little time. I felt like screaming "Slowww down". A big part of the book leading up to the ending was very much Sarah Dessen-like where nothing really important happens. It's just the characters' day to day lives being spread out in front of us. Don't get me wrong though! While it wasn't all necessarily key to the underlying storyline, it wasn't NOT interesting. I actually really like Sarah Dessen type books where it's not action all the time, where it focuses on the tiny mundane details in life instead but in a really interesting way. That's a pace that I can get used to and that's a pace I got used to here. I liked just seeing Gwen's summer unravel so the ending with all of its BOMBSHELLS just threw everything off-kilter for me. And when the last page came, it almost came too soon. Like excuse me, can I please have some more time to process all this new information I have just been provided with? Give me time to adjust!
What I Thought Was True NAILED its setting.
So I had to mention this because I picked it up for its summery feel and guess what? I got it. BOY, DID I EVER GET IT. I honestly felt transported to Seashell Island and felt as if I were spending my summer with Gwen and Cass and Spencer and Viv and EVERYONE. The setting was written spot on so THANK YOU Huntley Fitzpatrick for giving me exactly what I wanted.
Great writing and great characters. If that's what you look for, GET AT THIS BOOK.
I'm smooshing these two together because I think they're related. What I Thought Was True is quite a character-driven novel - as I mentioned, it isn't an action filled book so a lot of what happens is key to developing the characters - so therefore if you have good writing, you must have good characters right? And vice-versa? Ok well maybe it doesn't work exactly that way but trust me, What I Thought Was True definitely had both. The writing flowed smoothly and the CHARACTERS. Don't even get me started on the characters. They were amazing and so realistic. I loved Gwen our fantastic protagonist who's such an admirable person but also someone who's incredibly relateable. I loved Cass who was really sweet. I loved Viv, best friend of Gwen, even though she wasn't in it a ton. I loved her and her friendship with Gwen. I loved Spencer despite the type of person we had come to know him as. I KNEW THERE WAS MORE TO HIM. And I loved Nic, Gwen's cousin and Viv's boyfriend, even though his pride really grated on my nerves sometimes. I can admire his determination and perseverance. I loved Emory, Gwen's younger brother, for just being the cutest little snowball alive. I loved Gwen's entire family. And I loved Mrs. Ellington, the old lady Gwen comes to care for. She was FANTASTIC.
There were also so many cute moments between Cass and Gwen in their relationship.
There were so many great moments. Everything was so cute and sweet and spot-on with these two. I adore them so much. Thinking back about this book just conjures up all these great moments between these two. Like when Cass goes to teach Emory how to swim. Or when Gwen gives Cass tutoring lessons. Or the lobsters? Or really every single fricking scene. The only thing that was weird though was how Cass seemed to be everywhere Gwen was. Did that strike anyone else as weird? It was like Cass was a psychic and could predict where Gwen would be. That was the only weird thing but apart from that, OK REALLY CUTE. Also, I imagined Cass as a sort of Abercrombie & Fitch model. Like really preppy and a swimmer which is such a preppy sport in my mind but then of course he had abs and was really polite. I don't know. I might just be rambling now.
I really enjoyed this book a whole lot. I thought it was a much stronger story than My Life Next Door although I had the same problems with this book as I had with the previous book: a rushed ending. The pacing at the beginning was nice and slow but not boring but within a few pages of the ending, all this stuff happened that really threw me for a loop and put the pacing of the book totally off balance. I sorta wanted more time to process it all, you know? But apart from that I thought this was a really good book. The setting was written so beautifully and the characters were amazing. While not all of them were really lovable, they were all incredibly realistic. I think one thing that Fitzpatrick does spectacularly is really capture all the different types of people in her characters and really show the complexities of humans. A lot of themes were also touched upon in this book that I know a lot of other readers have already mentioned: messages of sex positivity in men and women, the idea that relationships can crash and burn even if you've loved each other for ages and seems like you're going to be in love for the rest of your life, differences in social class and more. A really great novel overall!
people who are looking for a summery read (like I was!) but one that's not all fluff. If you like Sarah Dessen and Morgan Matson, this is a good book to check out! And if you're okay with more character-driven novels without so much action, again this might be right up your alley!
**********
Magan @ Rather Be Reading
says: "
I didn't walk away with a light and happy feeling, nor really feel like Gwen had gone through the major transformation I was expecting. When it comes right down to it, maybe I just really missed all of the rambunctious Garrett family members from My Life Next Door. They're pretty darn hard to beat."
Meg @ Cuddlebuggery
gives it 5 stars: "What I Thought Was True is lovely, just lovely. It's like a warm, fluffy blanket I want to wrap myself up in and snuggle with all day."