If you're a student like me, you're probably also feeling the equal parts of excitement and nervousness that going back to school brings with it. That is, if you haven't
already
returned to school. Here in Canada, school starts the day after Labour Day which falls on the first Monday of September. Luckily this year, Labour Day fell a week into September which means that we basically all get an extra week of summer vacation. But at this point, it's so close that a few extra days doesn't really make a difference to me (though I'm sure I'll be wanting to swallow my words once school
actually
starts). I can already feel the arrival of school beating down my back and images of stacks of papers to complete and full calendars and late nights and early mornings and all too short weekends are FLASHING BEFORE MY EYES.
But I guess I do still have a week so before I have to succumb to that reality, I thought I would use my last few days of freedom and relaxation to write some more blog posts so I don't get even MORE flustered when school starts. And this is the first post I'm checking off my to-write list!
This summer, I had surprisingly a lot of time to read even though for a large chunk of it, I was travelling. But I ended up reading more than 15 books in July alone which is huge for me, like that never happens. And a lot of the books I really liked but then there were some other books I didn't like very much which I'm going to be reviewing really briefly in this post. (Or at least in relation to my typical reviews... These are maybe 500 words as opposed to 10 000 so for me, they are mini.)
I'm not going to lie, I did have fun with these reviews. DON'T COME AT ME WITH PITCHFORKS PLEASE, OK? Because I admit it, I enjoy writing negative reviews because I like having a good rant. I don't do it to be a meanie or a bully. But anyway, I didn't have a whole lot to say about these books to get a whole review out but I've been trying to slim down my list of books to review and I think my thoughts on these books are interesting enough to at least warrant a short discussion so I've just squished them all together in one post. Like, let's not drag out the negative too long, right? Let's just do this, get in, get out and focus on good books we love! Yay! (Seriously though, DON'T STAB WITH YOUR POINT PITCHFORKS.)
WARNING: THESE REVIEWS CONTAIN SPOILERS. PLEASE PROCEED AT YOUR OWN DISCRETION.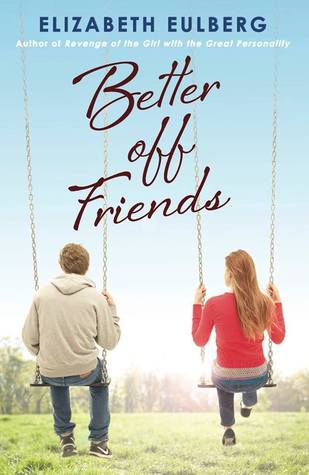 Better Off Friends by Elizabeth Eulberg
Published February 25, 2014 by Point
eBook, 288 pages
Borrowed from library
For Macallan and Levi, it was friends at first sight. Everyone says guys and girls can't be just friends, but these two are. They hang out after school, share tons of inside jokes, their families are super close, and Levi even starts dating one of Macallan's friends. They are platonic and happy that way.

Eventually they realize they're best friends — which wouldn't be so bad if they didn't keep getting in each other's way. Guys won't ask Macallan out because they think she's with Levi, and Levi spends too much time joking around with Macallan, and maybe not enough time with his date. They can't help but wonder . . . are they more than friends or are they better off without making it even more complicated?

From romantic comedy superstar Elizabeth Eulberg comes a fresh, fun examination of a question for the ages: Can guys and girls ever really be just friends? Or are they always one fight away from not speaking again — and one kiss away from true love?
I used to be a huge Elizabeth Eulberg fan after reading my first ever book by her (Take a Bow) when I was eleven. Since then I've read and enjoyed Prom and Prejudice as well as The Lonely Hearts Club but I haven't read anything by her in recent years. Which leads to me to think that maybe I've outgrown Elizabeth Eulberg's books? I just found everything super underwhelming. I was looking for a nice fluffy book for the summer - something along the lines of Kasie West - but what I found was a big bag of BORING. The writing was not engaging for me in any way and the plot was so slow. Like literally this book details the entire history of Levi and Macallan's friendship and basically the same thing happens over and over again. Oh, we actually do secret feelings for each other but we're not going to tell the other person because that's just going to ruin everything! So what do they do? They basically take turns being unavailable until FINALLY they get together. Like Macallan'll realize her feelings for Levi but OH DAMN, he's dating her best friend. They break up. Then Levi will finally get the courage to tell Macallan he likes her but then SHE'S dating a person. And so it goes.
The switching perspectives along with the present to past switching was so annoying. The plot was annoying. The story was annoying. The writing was annoying. The characters were annoying (oh my GOD, were they EVER).
But the worst thing was how this book was presented as a GROUND BREAKING novel in which two friends of opposite genders never actually like each other romantically BUT THEN THEY DO. And I get it's like they were friends first and they're still going to be best friends but if they're still going to end up falling in love, why did I have to read through all that? I wanted to see how Elizabeth Eulberg dealt with Levi and Macallan's friendship because it seems like every single book and movie and TV show loves for their male and female friends to fall in love and given the title, I thought we might have something a little more nuanced here? BUT IT'S JUST THE SAME. Honestly it can't be this hard to find a book that's just about a girl and a guy being friends.. and that's it. Without even having anyone question it. This happens all the time in reality. Is it too much to ask for that to be represented in books as well?
Superlatives #1
Published May 20, 2014 by Simon Pulse
Paperback, 336 pages
Borrowed from library
Tia and Will's lives get flipped upside down when they're voted Yearbook's Biggest Flirts in this sassy novel from the author of Endless Summer and The One That I Want.

Tia just wants to have fun. She's worked hard to earn her reputation as the life of the party, and she's ready for a carefree senior year of hanging out with friends and hooking up with cute boys. And her first order of business? New guy Will. She can't get enough of his Midwestern accent and laidback swagger.

As the sparks start to fly, Will wants to get serious. Tia's seen how caring too much has left her sisters heartbroken, and she isn't interested in commitment. But pushing Will away drives him into the arms of another girl. Tia tells herself it's no big deal…until the yearbook elections are announced. Getting voted Biggest Flirts with Will is, well, awkward. They may just be friends, but their chemistry is beginning to jeopardize Will's new relationship—and causing Tia to reconsider her true feelings. What started as a lighthearted fling is about to get very complicated…
This book was so boring and unmemorable I can't even tell you what happened in the book. All I remember is a make-out scene at the beginning that made me wonder if I was reading a New Adult and honestly that would have been totally okay with me if it meant MORE EXCITEMENT. But unfortunately the rest of this book was at a stark contrast with the beginning being so completely boring.
Like the first three chapters I was so interested. Like who's this Will guy? A blonde who's super tall with an ear piercing who plays hockey? Um, the only way you could get me to fall even more in love with him at this point is if you told me he was a swimmer and a soccer player and a musician. Like he already sounds pretty perfect to me. But then he was literally the most boring character ever? I kinda felt like he just whined the entire time and about EVERYTHING. And then Tia was a really bizarre character as well? Not even personality wise, mostly just her narration was super confusing to me and gave me some trouble following along. This is probably just a me thing but I found her voice to be very distinct which can be good OR bad. In this case it was bad. I'd almost definitely rather a main character like Sarah Dessen's where the main character's voice maybe isn't as defined but the writing's good and not confusing.
To be honest with you, I can't even express what I disliked about this book. I just kinda disliked it all. Wasn't a fan of Will and Tia's relationship. Thought everything that happened was super weird? Thought the superlatives thing was super weird. And like all of a sudden there's this sideplot that feels really serious about Tia's sister with an abusive boyfriend that just came out of nowhere. And it wasn't dealt with well enough for me to really understand why it was there at all. Like it literally had nothing to do with anything else in the book.
If I could sum up my feelings toward this book, it would be SO FREAKING BIZARRE.
Also side note I am so sick of characters who slack off at school but are actually so smart that they could "get a high enough SAT score to get a full-ride scholarship" (paraphrasing here.) Like UGH GO AWAY. Honestly I've seen this so many times and it bugs me so much. Like yes not all slackers are dumb but you can not try for your four years of high school and not hand in a single thing and still, it'll be okay because you're so smart that you can ace the SATs, no problem??? EFF OFF.
(Okay so maybe this is just me airing out my grievances about having to take the SATs in a year but STILL.)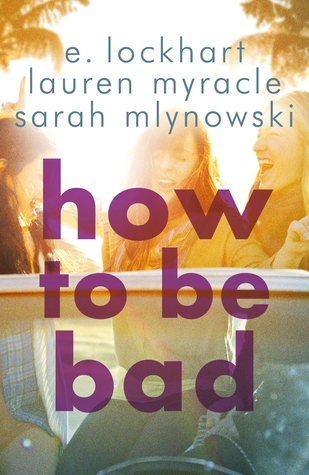 How to Be Bad by E. Lockhart, Sarah Mlynowski and Lauren Myracle
Published May 6, 2008 by Harper Teen
Hardcover, 336 pages
Borrowed from library
From the authors of ttyl, Bras & Broomsticks, and The Boyfriend Listcome three unforgettable characters and one exhilarating novel

Vicks is the wild child whose boyfriend has gone suspiciously quiet since he left for college; Mel is the newcomer desperate to be liked; and Jesse will do anything to avoid a life-altering secret. Each one has her own reason for wanting to get the heck out of their nowheresville town, even just for the weekend. So they climb into Jesse's mom's "borrowed" station wagon and head south.

Hearts will be broken, friendships will be tested, and a ridiculously hot stranger could change the course of everything.
This was recommended to me by Chloe through Epic Recs and we have similar taste in books so I was really hoping that I'd like this book. The only author that I'd read prior to this book was Sarah Mlynowski and I've really enjoyed her books so I had high hopes for this one but unfortunately, it didn't end up working out. I never connected with any of the characters, never felt intrigued by the story and never really enjoyed the writing either. I'm not sure how the authors approached this book, like if they assigned a different character to each person but I never got a really good grasp of what each character was like. Or maybe I wasn't paying enough attention, that could also be it because I was really bored.
Like even though Jesse and Vicks and Mel went on this crazy adventure with alligators and hurricanes and all that wild stuff, I was just so not having it that it flew over my head. And I guess I also never really understood why the girls wanted to go on a road trip. When I think about this book, I just kinda envision a bizarre tangle of different storylines that never really came together to weave a beautiful picture for me. YOU KNOW? My reaction to this book was similar to my reaction to Biggest Flirts. Like bizarre but also tres uninterested. Like I could have done sans this book, you feel?
I think another big problem I ran into reading this book was that I absolutely HATED Jesse. She's a super religious Christian and while I have no problem with anyone who's super religious or Christian OR BOTH, I had a problem with her being really judgmental. Maybe when you are super religious it's hard not to apply your own morals to everything and everyone else and want them to act the way you believe is right but honestly I just thought Jesse was a really obnoxious character. Like even minus the holier than thou attitude she had, her behavior towards her friends just really irked me. Like maybe my least favourite character ever. I just found her so supremely annoying like please SHUT UP.
Not that Vicks and Mel were any better. Just not a fan at all. Might be my least favourite out of all four of these books, along with Better Off Friends.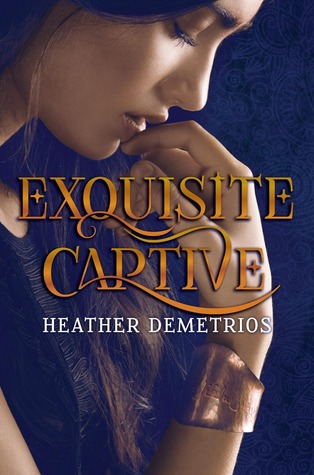 The Dark Caravan Cycle #1
Published October 7, 2014 by Balzer + Bray
Hardcover, 480 pages
Forced to obey her master.
Compelled to help her enemy.
Determined to free herself.

Nalia is a jinni of tremendous ancient power, the only survivor of a coup that killed nearly everyone she loved. Stuffed into a bottle and sold by a slave trader, she's now in hiding on the dark caravan, the lucrative jinni slave trade between Arjinna and Earth, where jinn are forced to grant wishes and obey their human masters' every command. She'd give almost anything to be free of the golden shackles that bind her to Malek, her handsome, cruel master, and his lavish Hollywood lifestyle.

Enter Raif, the enigmatic leader of Arjinna's revolution and Nalia's sworn enemy. He promises to free Nalia from her master so that she can return to her ravaged homeland and free her imprisoned brother—all for an unbearably high price. Nalia's not sure she can trust him, but Raif's her only hope of escape. With her enemies on the hunt, Earth has become more perilous than ever for Nalia. There's just one catch: for Raif's unbinding magic to work, Nalia must gain possession of her bottle…and convince the dangerously persuasive Malek that she truly loves him. Battling a dark past and harboring a terrible secret, Nalia soon realizes her freedom may come at a price too terrible to pay: but how far is she willing to go for it?

Inspired by Arabian Nights, EXQUISITE CAPTIVE brings to life a deliciously seductive world where a wish can be a curse and shadows are sometimes safer than the light.
I was maybe the most excited to read this book out of all four listed here because it was so new. I'd never read a book about jinnis before and I really enjoy retellings and it held so much promise and I got let down. It didn't end up as bad as the other three were? I don't look at this book and immediately want it to burst into flames but I definitely don't look at this book with a whole lot of affection either.
Feel like I'm repeating myself but I WAS SO BORED. I don't understand how jinnis can be made into something so utterly boring I wanted to claw my eyes out but there you go. I said in my review of The Darkest Minds that I rather have an author give me infodump over no information at all and I still stand by that but oh my god you don't understand how BORING it is to read through pages and pages of just background information included in the most unsubtle way ever.
Also the writing was so hard to get into. Which baffled me because I had read I'll Meet You There by Heather Demetrios before reading this and absolutely LOVED IT. Like it was an automatic five star but then I got to this book and it was like... what happened? (tbh, the same way I feel about Morgan Matson's books versus her books as Katie Finn).
The worst part was the love triangle. I'm not on board with this love triangle or really anyone at all. Raif is... like I don't even care about him and Malek is just horrible. I loathe him so that might be why I ended up not liking Nalia very much either because I hated her reactions to him kissing her. Like ew stop it.
And that's all I really have to say. I've forgotten most of what happens in this book and can't be bothered to even Google what happens. Just, no thank you.
Not gonna lie, that felt pretty good. To get all that stuff off my chest and rant for a little bit was nice. And now I'll return to being positive Annie. Hurray!
Have you read any of these books? What were your thoughts on them? Have you read any books that you really DID NOT like recently? Tell me and get your anger off your chest!