Last week, I published a collection of
four mini reviews on books I DIDN'T like
and this week, I thought it'd be appropriate to post a more positive post on books I did, in fact, enjoy. Since I'm still trying to TRIM DOWN the list of books I have to review, I'm going to be writing mini reviews again! It's been maybe two months since I've read these books so my memory is a little fuzzy which means I probably don't have enough to say about these books to qualify for a full-length review which means mini reviews = NEW BEST FRIEND. (on my standards, I guess? Because I know these mini reviews really aren't that "mini" compared to everyone else's mini reviews. I JUST LIKE TO TALK A LOT OK??). SO BYE NEGATIVITY AND BOOKS I DIDN'T LIKE because here is a POSITIVE post about books I DID LIKE (like, a lot).
WARNING: THESE REVIEWS CONTAIN SPOILERS. PLEASE PROCEED AT YOUR OWN DISCRETION.
Published April 30, 2013 by Ballantine Books
Hardcover, 344 pages
Borrowed from library
A charming and laugh-out-loud novel by Lauren Graham, beloved star of Parenthood and Gilmore Girls, about an aspiring actress trying to make it in mid-nineties New York City.
Franny Banks is a struggling actress in New York City, with just six months left of the three year deadline she gave herself to succeed. But so far, all she has to show for her efforts is a single line in an ad for ugly Christmas sweaters and a degrading waitressing job. She lives in Brooklyn with two roommates-Jane, her best friend from college, and Dan, a sci-fi writer, who is very definitely not boyfriend material-and is struggling with her feelings for a suspiciously charming guy in her acting class, all while trying to find a hair-product cocktail that actually works.
Meanwhile, she dreams of doing "important" work, but only ever seems to get auditions for dishwashing liquid and peanut butter commercials. It's hard to tell if she'll run out of time or money first, but either way, failure would mean facing the fact that she has absolutely no skills to make it in the real world. Her father wants her to come home and teach, her agent won't call her back, and her classmate Penelope, who seems supportive, might just turn out to be her toughest competition yet.
Someday, Someday, Maybe is a funny and charming debut about finding yourself, finding love, and, most difficult of all, finding an acting job.
I haven't watched Parenthood or Gilmore Girls (although I have been told by many that I should start watching the latter!) so I didn't really know who Lauren Graham was before reading this book but now that I've finished, I am such a fan. Obviously this book isn't a memoir but Lauren's writing was just so charming and witty and so so delightful to read. A lot of what happens in this book isn't tremendously exciting. No one goes on a car chase here. There isn't any salacious relationship either. Most of it was just detailing Franny's day to day life, which admittedly did get a bit repetitive as there are only so many auditions and casting calls you can read about before it all starts to blend together, but that's just a testament to how good Lauren's writing is because even DESPITE the fact that what happened in Franny's life wasn't the most interesting thing ever, I was kept engaged and entertained and I wanted to read on.
Another thing I loved was the 1995 New York setting. I have never been to New York nor have I lived through the year 1995 but something about Lauren Graham's writing just made it so easy to picture myself right there with Franny. Also the side characters are AMAZING. And I thought the inserts from Franny's Filofax Lauren Graham included were so cute and a great way to show some more of Franny's personality. And speaking of Franny, I WAS SUCH A FAN OF THIS GIRL. She was charming and determined and witty and clever and someone I would totally want to be friends with. But most importantly, her situation resonated so deeply with me and I think that's the best part of this entire book. I was able to relate, even though I'm not an aspiring actor nor am I in my twenties which is so weird because those are two things that are so rooted in Franny's identity. And yet... I still had such a strong connection with Franny. Honestly I don't think I've had as strong a connection with any other character so far this year. Her insecurity and uncertainty about her future is basically exactly how I feel and there were some quotes in the book that just totally struck me like WOW that's a feeling I've always had but never knew how to put into words.
Okay now that I'm writing this review... I'm thinking I should boost my rating from a 4.5 to a 5. Like there are still things that irked me but they're so minor compared to the massive impact that this book had on me and how deeply it resonated with me. Like it's been two months and I still haven't forgotten what I felt while reading this book and how I felt afterwards and that's saying a lot. But anyway, I really really loved this book SO HARD and I'll actually probably buy a physical copy for my bookshelf later on this month as I only own it on my Kobo.
ALSO LAUREN GRAHAM, PLEASE WRITE MORE BOOKS.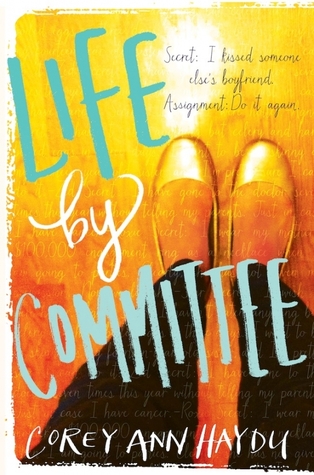 Published May 13, 2014 by Katherine Tegen Books
Hardcover, 304 pages
Borrowed from library
Some secrets are too good to keep.
Tabitha might be the only girl in the history of the world who actually gets less popular when she gets hot. But her so-called friends say she's changed, and they've dropped her flat.
Now Tab has no one to tell about the best and worst thing that has ever happened to her: Joe, who spills his most intimate secrets to her in their nightly online chats. Joe, whose touch is so electric, it makes Tab wonder if she could survive an actual kiss. Joe, who has Tabitha brimming with the restless energy of falling in love. Joe, who is someone else's boyfriend.
Just when Tab is afraid she'll burst from keeping the secret of Joe inside, she finds Life by Committee. The rules of LBC are simple: tell a secret, receive an assignment. Complete the assignment to keep your secret safe.
Tab likes it that the assignments push her to her limits, empowering her to live boldly and go further than she'd ever go on her own.
But in the name of truth and bravery, how far is too far to go?
I remember the day I finished this book so clearly because it was one of those more memorable days but not in a good way. I had stayed at a hospital that day for nearly nine hours getting a saline drip because I had thrown up five times the night before and had a horrible fever. IT WAS AWFUL. By the time I got back to my hotel, it was already six and I remember just being tired out of my brain and so drowsy but also desperate for something to do that wasn't napping because that was all I had done for the past nine hours so I flopped onto my bed and picked up this book and started reading. And just read until I had to sleep. And you know what? Life by Commitee was just as memorable as my day.
This was my first book by Corey Ann Haydu but it definitely won't be my last. I don't usually notice little intricacies about an author's writing unless it's really distinct so usually I judge how good an author's writing is TO ME by how engaged I was by it. And Corey Ann Haydu's writing swept me away and just kept me in this little, creepy world she created and didn't let me go from the first page to the last page. I literally did not and could not tear my eyes away.
The idea of a secret society online that dares each other to do stuff was so interesting but also unsettling for me. And like obviously this isn't supposed to be a thriller or a horror but I was shit scared. Like I was honestly so frightened and unsettled by the time I finished the book with this secret online society shit. Kinda sounded like some Illuminati stuff and was CREEPY AS FUCK.
And I'm gonna be straight with you here: didn't always like Tabitha's decisions. Especially not when it came to Life by Committee but also not when it came to Joe. The topic of cheating came up here which always makes me very uncomfortable and like I said, I didn't always agree with Tabitha's decisions but I could understand where she was coming from. That doesn't mean I condone her behavior but it's just like... yeah I can see what might have been going through Tabby's mind when she did what she did. Also Joe is so... like he's not even a dick? He's more complicated than that? I didn't like him but I also felt a certain tug towards him. IDK. It was weird. Honestly everyone in this book was so strange and I think maybe the only characters I liked were Tabitha's parents (I WANT MY PARENTS TO OWN A COFFEE SHOP).
But by the end when all the shit about Life by Committee comes bubbling up, I was just so freaked out honestly that I can't think about any of these characters or any part of this book without like wanting to rub myself with garlics and wear crosses to ward off evil. I don't know, I'm probably overreacting and am probably the only one who was this creeped out but like I DON'T KNOW THIS BOOK MADE ME SO UNSETTLED. I half want to run away from it and half want to pick it up and read it again and I don't know what to do. BUT IT WAS STILL GOOD. I'm just also very unsettled.
Published February 3, 2015 by Henry Holt & Co.
Hardcover, 388 pages
Borrowed from library
If seventeen-year-old Skylar Evans were a typical Creek View girl, her future would involve a double-wide trailer, a baby on her hip, and the graveyard shift at Taco Bell. But after graduation, the only thing standing between straightedge Skylar and art school are three minimum-wage months of summer. Skylar can taste the freedom—that is, until her mother loses her job and everything starts coming apart. Torn between her dreams and the people she loves, Skylar realizes everything she's ever worked for is on the line.
Nineteen-year-old Josh Mitchell had a different ticket out of Creek View: the Marines. But after his leg is blown off in Afghanistan, he returns home, a shell of the cocksure boy he used to be. What brings Skylar and Josh together is working at the Paradise—a quirky motel off California's dusty Highway 99. Despite their differences, their shared isolation turns into an unexpected friendship and soon, something deeper.
This book was so good. Like after a string of not so good books, it was so nice to finally read a book that KNOCKED MY SOCKS OFF. I ripped through this book in a day and I could not stop reading. I just wanted more and more and when the book finally ended, it made me really really sad.
First of all, I LOVED Skylar and Josh. As individual characters but also together. They're both so real to the point where it's annoying because you care for them so much but they do shitty things, LOOKING AT YOU JOSH YOU LITTLE FUCKER. But you still love them. Although I still cringe over Josh's use of the f word (you know how it goes... rhymes with maggot or bag) and truthfully wasn't quite sold on how he was the douchiest of douchebags but then you fall in love with him and he's so cute. Wasn't sold on it honestly but I ended up totally ignoring that because the rest of the book was written so well and it was so good that I just didn't want to bother harping over that any more. Especially since he was a nice guy. I hate people using the f word and if you use it, you're definitely going to have me seriously question the quality of your character but I also don't believe in absolutes. I think you can definitely be the type of person who says derogatory things and then is also a genuinely sweet and caring person to the people you love. I'm not gonna make excuses for Josh and say he didn't mean what he said because I don't know HE'S A FICTIONAL CHARACTER I DON'T KNOW but I do know that at the end, I was totally sold on him. I FEEL SO TORN UP ABOUT IT. Honestly I wish Heather Demetrios just didn't include that little bit with the word because it didn't really do anything except make me really uncomfortable. But anyway. In the end, I did like him a lot.
I also loved the secondary characters like Skylar's friends and the owner of the hotel who I forget the name of and while I wasn't the hugest fan of Skylar's mom and everyone else, I could appreciate their realness.
OK I ALSO LOVED THAT SKYLAR AND JOSH WORKED AT A MOTEL AND EVEN THOUGH IT SOUNDED KINDA ICKY (I'm the type of obnoxious person that refuses to stay in anything that isn't at least a Hilton or some equivalent) IT ALSO SOUNDED SUPER COOL LIKE HAVING THEMED ROOMS? YES!! And like I said, the owner of the motel was super sweet!
Okay I also appreciated the topics Heather Demetrios touched upon here. Like poverty, for instance. It was definitely very sobering to read about what Skylar had to go through and made me think twice about my current position and how lucky I am. My family may not be insanely rich but we have more than we need to get by and that's something that I should be grateful for every day. Because there are people who are in Skylar's position who have to forego food some days to save money and there is something just so, so, so unjust and harrowing about that. And then of course there are people who don't even have a place to live to start with and yeah, it just got me really thinking about my privilege and how it shouldn't ever be something I take for granted.
I also really liked how Heather dealt with Josh's character being a soldier and showed the very real consequences of being in the military and witnessing things that no person should ever have to witness and do things that no person should ever have to do and all these different, complex things that come along with being in the military.
Overall I really loved this book. The only nitpicky thing I have is that while I LOVED reading from Josh's point of view and I loved how it was written, it was often unexpected when his sections would pop up so I only wish that there had been a more natural transition between Skylar and Josh. But that's pretty much it! This got a 4.5 from me although it's really more a 4.8 so I'm rounding this to a five star.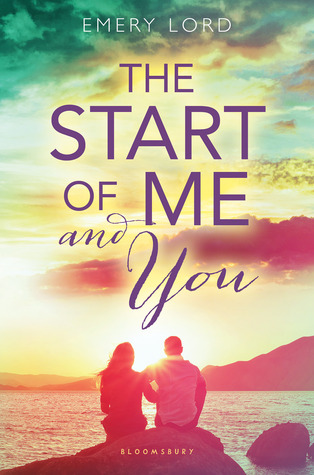 Published March 31, 2015 by Bloomsbury
Hardcover, 384 pages
Borrowed from library
Following her pitch-perfect debut Open Road Summer, Emery Lord pens another gorgeous story of best friends, new love, & second chances.
Brimming with heartfelt relationships and authentic high-school dynamicsThe Start of Me and You proves that it's never too late for second chances.
It's been a year since it happened—when Paige Hancock's first boyfriend died in an accident. After shutting out the world for two years, Paige is finally ready for a second chance at high school . . . and she has a plan. First: Get her old crush, Ryan Chase, to date her—the perfect way to convince everyone she's back to normal. Next: Join a club—simple, it's high school after all. But when Ryan's sweet, nerdy cousin, Max, moves to town and recruits Paige for the Quiz Bowl team (of all things!) her perfect plan is thrown for a serious loop. Will Paige be able to face her fears and finally open herself up to the life she was meant to live?
After reading Open Road Summer and being very impressed by it, I was DYING to read this book, sure it was going to be EVEN better. Turns out that no, it wasn't. I definitely did not enjoy this more than Open Road Summer but it wasn't bad either. The beginning was a little shaky for me. I found myself a little bored by Paige's narration and nothing really happened but I would say that I really enjoyed the last thirty pages or so.
There are so many great things about this book though. The fact I didn't love it is more a me, not you thing because truly there are so many good things about this book and I have no doubt that most people would love this book. It has the solid friendship group that I love to read about, it has a cute nerdy love interest which I so appreciated and also a former love interest, Ryan, who didn't reciprocate Paige's feelings but also wasn't a dick which I LOVED. I was so afraid we'd go into dick territory with Ryan but thank god that didn't happen.
And yeah.. I don't really have much more to say about this book. I was a book I liked enough but not one that blew me away. There were so many good things about this book but none of them really got to me and made this book a LOVE in the same way that Open Road Summer was for me.
So how's that for a more positive turn of things? Make sure to tell me whether you've read these books and what your thoughts were on them!
also happy labour day to everyone (or everyone who celebrates it)