As a book blogger, my bookish radar is always on. I'm constantly hearing about titles of books and while some of them don't particularly interest me, others so do. These are the books that I currently have my eyes on. I WILL READ THEM IF IT'S THE LAST THING I DO. Inspired by On the Smugglers' Radar @ The Book Smugglers and Waiting on Wednesday @ Breaking the Spine
The last Bookish Radar post I did, I featured four books from a specific genre and I liked that idea so much that I decided to do it again but this time, with four debut YA novels set to come out this year. I haven't been keeping up really closely with what's slated to be released this year but from the few that have made it to me either through Goodreads or Twitter or other blogs, I have a feeling that 2015 will be a fantastic year. Already, I'm seeing so many unique and original ideas and I can only imagine what else is out there that I haven't yet found. So here's to 2015 and the wonderful new authors about to make their debut!
Even When You Lie to Me by Jessica Alcott
Expected release date: June 19, 2015
Fans of John Green's Looking for Alaska as well as Lauren Oliver and Sarah Dessen will embrace this provocative debut novel, an exploration of taboo love set against the backdrop of a suburban high school.
Charlie, a senior, isn't looking forward to her last year of high school. Another year of living in the shadow of her best friend, Lila. Another year of hiding behind the covers of her favorite novels. Another year of navigating her tense relationship with her perfectionist mom.
But everything changes when she meets her new English teacher. Mr. Drummond is smart. Irreverent. Funny. Hot. Everyone loves him. And Charlie thinks he's the only one who gets her.
She also thinks she might not be the only one with a crush.
In this stunning debut, Jessica Alcott explores relationships-and their boundaries-in a way that is both searingly honest and sympathetic.
Maybe it is sick for me to say this but I find teacher-student relationships incredibly interesting. I probably have Pretty Little Liars to thank for this, making Aria and Ezra look so cute at times that it almost makes me forget about how utterly strange and uncomfortable a teacher-student relationship in reality would be. But that reality is sorta exactly why I want to read this book? I am so interested to see how Alcott will explore this dynamic especially since the blurb hints at the fact that there might be someone else besides Charlie who likes Mr. Drummond? Which practically tells you that SOMETHING BIG is about to go down. So Even When You Lie to Me is definitely on my I'm-Watching-You list and I'm marking June 19 on my calendar to remind myself to go get it that day!
Released January 22, 2015
If you could trade your biggest burden for someone else's, would you do it?

Five teenagers sit around a bonfire in the middle of the New Mexico desert. They don't know it yet, but they are about to make the biggest sacrifice of their lives.

Lo has a family history of MS, and is starting to come down with all the symptoms.
Thomas, a former child soldier from Liberia, is plagued by traumatic memories of his war-torn past.
Kaya would do anything to feel physical pain, but a rare condition called CIP keeps her numb.
Ellen can't remember who she was before she started doing drugs.
Kit lost his girlfriend in a car accident and now he just can't shake his newfound fear of death.

When they trade totems as a symbol of shedding and adopting one another's sorrows, they think it's only an exercise.

But in the morning, they wake to find their burdens gone…and replaced with someone else's.

As the reality of the ritual unfolds, this unlikely group of five embarks on a week of beautiful, terrifying experiences that all culminate in one perfect truth: In the end, your soul is stronger than your burdens.
Freaky Friday was probably one of my favourite movies when I was younger so I have to say that I do love a switcheroo. And judging from the synopsis, this book has a switcheroo that I will really be into. I love this idea of these five characters with their own personal and difficult burdens that they then sorta share with each other? And I think this idea will only be more interesting because of the vast array of characters in this book. I'm really intrigued to see how the story plays out and I have a feeling that I'll end up having a serious life-pondering moment afterwards. And I didn't know it was out already but now that I do know, I'm definitely making a trip to get a copy!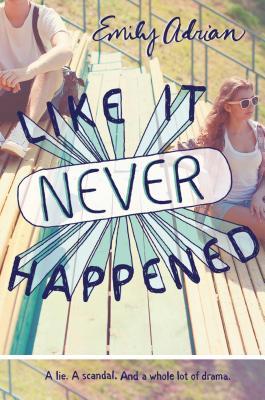 Like It Never Happened by Emily Adrian
Expected release date: June 2, 2015
Stereotypes, sexuality, and destructive rumors collide in this smart YA novel for fans of Sara Zarr's Story of a Girl, Siobhan Vivian's The List, and E. Lockhart's The Disreputable History of Frankie Landau-Banks.

When Rebecca Rivers lands the lead in her school's production of The Crucible, she gets to change roles in real life, too. She casts off her old reputation, grows close with her four rowdy cast-mates, and kisses the extremely handsome Charlie Lamb onstage. Even Mr. McFadden, the play's critical director, can find no fault with Rebecca.

Though "The Essential Five" vow never to date each other, Rebecca can't help her feelings for Charlie, leaving her both conflicted and lovestruck. But the on and off-stage drama of the cast is eclipsed by a life-altering accusation that threatens to destroy everything…even if some of it is just make believe.
In reality, I don't like drama. As in I do like plays and musicals very much but don't have the talent or the guts to go up and perform myself. Maybe that shouldn't be an excuse as to why I don't join my school's stage production but anyway, I much prefer living through books or movies and in this case, through Rachel! I don't know anything about this book other than what's been said in the blurb and while admittedly that wouldn't be enough to pull me in typically because it sounds a little typical, who knows? Maybe I'll end up being surprised.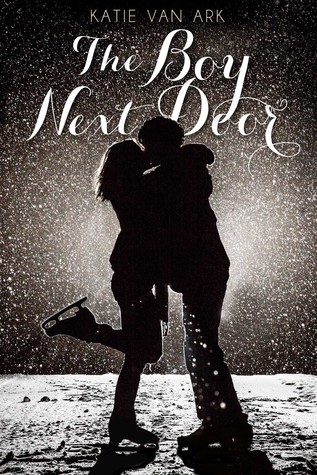 The Boy Next Door by Katie Van Ark
Released Janaury 6, 2015
Maddy Spier has been in love with the boy next door forever. As his figure skating partner she spends time in his arms every day. But she's also seen his arms around other girls—lots of other girls.

Gabe can't imagine skating with anyone but Maddy, and together they have a real chance at winning some serious gold medals. So, he's determined to keep thinking of her like a sister. After all, he's never had a romantic relationship that lasted for more than two weeks.

But when their coach assigns a new romantic skating program, everything changes. Will this be the big break that Maddy's been hoping for or the big breakup that Gabe has always feared.
My mum and I make a habit of watching the figure skating season every year. It's not really something I'm interested in as much as it is hers but it's become a habit over time. It's just not winter if there's no skating programs on, you know? So that's part of my attraction to this book. The other part is that I saw Tessa Virtue and Scott Moir (Canadian ice dance duo extraordinaires!) speak at a conference and their story about how they made it to where they are was so inspiring and really gave new light to the sport for me. So I'm interested in reading this book just to see how the skating aspect is dealt with and the idea of friendship and romance.
That concludes my Bookish Radar for this month. Tell me in the comments if a) you've read any of these books and what you thought if you did, b) if there are any 2015 debuts that you've read/heard about that you think I need to put on my TBR and c) what other books you've been eyeing recently! Chat with me!!