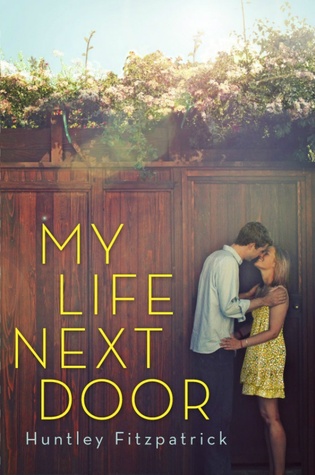 My Life Next Door #1
Published July 14, 2012 by Dial Books for Young Readers
Hardcover, 394 pages
Borrowed from library
All the time Samantha has been living next door to the Garretts, her mother has openly voiced her disdain about them. Because the Garretts are messy and rowdy while Samantha and her mother are neat and reserved. But secretly, Samantha longs to know what it's like to be a part of the Garrett family which is why she's been sitting on her window (or roof?) for the past years watching the Garretts as they go about their day. And then one of the Garretts, Jase, pops into Samantha's life and everything changes. Things happen. Good things and bad things but you'll want to read this book to find out!
Okay, sorry for that craptastic synopsis. I mean, all of my synopses are kinda crap but this one was particularly crap, I know. I didn't want to give out anything though and no offense to the blurb writers for My Life Next Door but your synopsis basically spoiled 3/4 of the book for me so thanks for that. I mean, yeah sure we could all guess where it was going but at the very least, give us the choice to pretend to be surprised when THINGS happen. Anyway, you should read this book to find out what happens but also for enjoyment because it was pretty enjoyable. I didn't love it but I did rather like it.
---
I went into this book with high expectations.
Not super high. This was my first Huntley Fitzpatrick after all and I wasn't sure if I would like the writing style and what not so my expectations weren't as great for this book as they were for, say, Since You've Been Gone by Morgan Matson, an author that I've loved and read previously. They were still pretty damn high though, mostly due to the positive reviews this book has garnered and the fact that I considered this book very "me". As in "wowee, I just know I'm going to LURVE this book". Well, I didn't love it but I didn't hate it either. And it wasn't just an okay read. I actually quite enjoyed it but I was a tad disappointed that I didn't love it though because I had went in expecting to.
My Life Next Door has a story line a bit similar to Romeo and Juliet's.
I have no clue if it was in fact based around it or if the author took inspiration from the novel but while reading it, I just couldn't help pick up on the similarities. It really isn't a bad thing at all, even if Romeo and Juliet isn't my favourite Shakespeare. I'm more mentioning this to see if anyone else who's read this book sees this? I thought Jase coming up to the roof to see Samantha was pretty likening to the balcony scene in Romeo and Juliet and the BIG INCIDENT at the end was a bit like the Tybalt-Mercutio-Benvolio drama. But maybe I'm just spewing nonsense? Anyway, if there's one thing that I'm sure about, it's that I liked the prohibited romance (even if it was only on Samantha's side, considering that her mother disproves of the Garretts and all that) and THAT'S IN ROMEO AND JULIET. And I love it.
Well, Annie, what did you think about the characters? You always have something to say about the characters so what did you think of the ones in My Life Next Door?
Well, I shall tell you what I thought about the characters. Honestly, I didn't care much for most of them. Frankly, our main character, Samantha was pretty forgettable. She really did not stand out at all in my mind. Her best friend, Nan, was absolutely ridiculous and delusional and if she weren't so horrible, I would almost have been sad to see her go. Samantha's mom was horrible. Clay was horrible. Jase was sweet but nothing more. Sorry Jase, you're a good guy but I honestly just did not feel anything towards him. He was a bit too cardboard cut-out for me. Like a little TOO perfect. The characters that I did like though? Tim (Nan's brother) and the rest of the Garretts. The kid Garretts had me laughing so hard. I can't remember their names any more (the suspect? My usual book amnesia.) but I DO remember my reaction. I loved them so much. And Tim was probably my favourite character out of all of them. I really thought he was the most well-developed character which is kinda crazy considering he's a side character. He STOLE the show though and I loved him so I'm happy he's getting his own novel!
The story wasn't slow but the pacing felt a bit weird for me.
I didn't find the story to be slow exactly because it certainly wasn't hard for me to keep flipping the pages but it definitely took a while for things to build up and then another while for things to happen. It took a good chunk of the book before we reached the big UNTHINKABLE mentioned in the book synopsis which was actually quite big and I felt because it was introduced so late into the story, it was almost a bit pointless because everything was resolved so quickly. A little bit too neat for something so big. I just wish that some of the Sam and Jase scenes were chopped even though they were fun because I really would have loved to see what happened after the unthinkable had it had some more space to fully be developed. So yeah, the pacing was definitely a bit off for me and that was why the book lost me about three-quarters of the way through. I just hated WAITING and WAITING for the big thing to happen.
And one last thing: the ending was so unsatisfying.
SO unsatisfying. I don't really know what else to say except for that. I still wasn't totally over the whole blow of the plot twist and how things resolved themselves very quickly so I was hoping that there would be some more closure in the ending, some more SOMETHING but there wasn't.
I was expecting to love this book but sadly, I didn't. I was left wanting more and I didn't get it which put a damper on my overall enjoyment of this book. I still did really like it though and it was a really fun experience which is why, all things considered, I'm giving this book four stars instead of three.
fans of Sarah Dessen and Morgan Matson. Also if you're looking for a summery read, this is a perfect book to sneak into your beach bag!