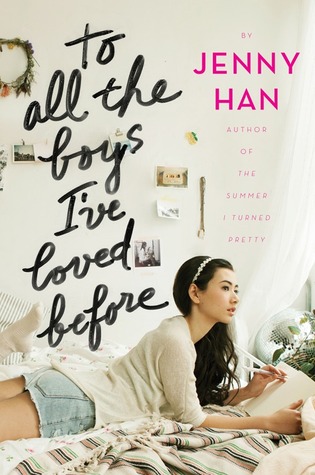 To All the Boys I've Loved Before #1
Published April 15, 2014 by Simon & Schuster Books for Young Readers
Hardcover, 288 pages
Received from publisher -- thank you so much!
One of Lara Jean's most prized possession is an old hat box her mother gave to her before she passed away. Not only does it hold sentimental meaning but it also contains letters Lara Jean has written to a handful of boys she's loved as a way to move on, and they're not meant for anyone's eyes but hers. But one day, Lara Jean comes to find that all her letters have been mailed out and naturally, disaster ensues. Especially when one of the boys she addressed a letter to was her older sister's ex-boyfriend who then admits to have had feelings for her. And another boy who suddenly becomes her fake boyfriend. What?
I remember the day I first found out about this book and how I instantly thought, "This is such a ME book." First of all, cute cover that belongs on my tumblr. Second, private letters being sent out secretly to the boys they were addressed to? WORST NIGHTMARE. But totally a worst nightmare I would love to see play out in front of me. And this book was honestly one of the most fun books I've ever had the pleasure of reading, not to mention the most ADORABLE. Would reread a hundred times over.
---
That cover.
Being a self proclaimed cover afficionado (haha, not really), I just HAVE to talk about this cover. So, so pretty. The lettering for the title is so unique and that writing is gorgeous in that wish-I-had-it way. And how did they know about the bright pink? I mean, just take a look at my blog, clearly bright pink speaks to me. Also, Lara Jean's room is fabulous and I want to live in it, please. And hurray for no whitewashing!
To All the Boys I've Loved Before had such a fun and interesting premise - one totally fit for a cute movie!
I think I've said this before somewhere but this book would seriously make the greatest sleepover movie. It's cute and sweet and so much fun. Though the book doesn't revolve around the sent letters as much as the synopsis would have you think, the letters do provide a kick-off point for all types of interesting things to happen and to be honest, To All the Boys I've Loved Before mainly centres around Lara Jean's fake relationship with Peter Kavinsky, one of the boys a letter was sent to and her first kiss. But the thing is, I love the fake relationship trope so it worked great for me. I loved that even despite knowing the inevitable would happen, it was so exciting to watch it all fall in place and get the fuzzies when it finally does.
Lara Jean could totally be my BFF.
I feel so strongly about this that I even wrote up a
list of reasons why Lara Jean and I are essentially kindred spirits
. But seriously, I LOVED Lara Jean as a character. Yes, she was naive at points and yes, she came off a bit whiney at points and was uncharacteristically childish but at the end of the day, I just really really liked her. Maybe it was because she spoke to me on a personal level because of all the little ways I could see myself in her but I loved her.
Great focus on family in this book and a strong paternal figure!
I love seeing family in books and I know I say that all the time but it honestly surprises me how family - such an integral part to all of our lives - doesn't pop up more in books, or as pronouncedly. To All the Boys I've Loved Before had a great focus on family though and I really appreciated that. I loved watching the relationship dynamics between Lara Jean and her sisters, Margot and Kitty. I don't have any siblings myself so I really enjoyed being able to have an inside peek and to me, at least, it all seemed really authentic. And of course, I had to mention Dr. Covey! Such a wonderful and hard-working person in general but a fantastic father. I loved reading about his relationship with the girls and it really made me happy to see how much they appreciated him and tried to help around to make it easier on him.
Peter Kavinsky.
Loved him. Oh my god, I don't even know what else to say except that he was fabulous and I need a Peter for myself.
The ending.
You've probably heard it a bunch of times but that ending was probably the most abrupt one I've read in ages. So unsatisfying. But it makes me all excited for the sequel and to see if my ship will survive. I seriously hope it does. Otherwise I will be in shambles.
To All the Boys I've Loved Before totally reached my expectations for it and trust me when I say this, I went in expecting a lot. This was one of my most anticipated 2014 releases and wow, did it turn out to be a really satsifying read! Lara Jean was fabulous and one of my most favourite protagonists in a long while. I loved the family element in this book as well as the whole set-up of the plot. Such a sweet book. It gave me all the fuzzies! The only thing was the ending came by really suddenly which was such a disappointment but now I'm super excited for the sequel!
contemporary lovers looking for an adorable and satisfying read. If you liked Since You've Been Gone by Morgan Matson or 13 Little Blue Envelopes by Maureen Johnson, I think you'd like this one!
**********
Jenni @ Xpresso Reads
gives it 2 and a half stars: "
I think I would have appreciated the novel a lot more if I had been able to identify with Lara Jean at all or if some of the romance worked for me but unfortunately it didn't."
Kate @ The Book Monsters
says "What was truly great about To All the Boys I've Loved Before was the pacing. The events take place right before school starts into Christmas break, and it felt like it. Sometimes it felt like I was getting just day to day stuff happening, sometimes bigger things occurred, but nothing felt rushed."
Aimee @ Deadly Darlings
gives it 3 stars: "Overall, I enjoyed reading the book, although I found the writing to be a bit dull, sadly. I did like how things ended openly–it was a cute ending that left me wanting more."
Elena @ Novel Sounds
says " I want more characters like Lara Jean. I would have LOVED this book as a teenager and I'm so thankful for Jenny Han."